26 June – World Day in Support of Victims of Torture
The Kazakhstan NGO Coalition against Torture invites you to support Kazakhstani victims of torture and their relatives by adding your comments under the case descriptions which we will be posting every other day until 26 June. Please post your messages of support (video messages are also more than welcome) with the hashtag ‪#противпытоквместе or send to notorture.kz@gmail.com with subject of letter "June 26".
Your words of encouragement are very important for all those who have been victims of torture in police stations, places of detention or army units in Kazakhstan. Victims of torture in Kazakhstan include men and women, the young and the not-so-young, people with families and single people, workers, students, people living in cities or the countryside.
We undertake to pass on your messages of support to the victims and their relatives. Your expressions of solidarity are invaluable to them so please don't stay silent, but speak up in support of them!
Don't stay silent!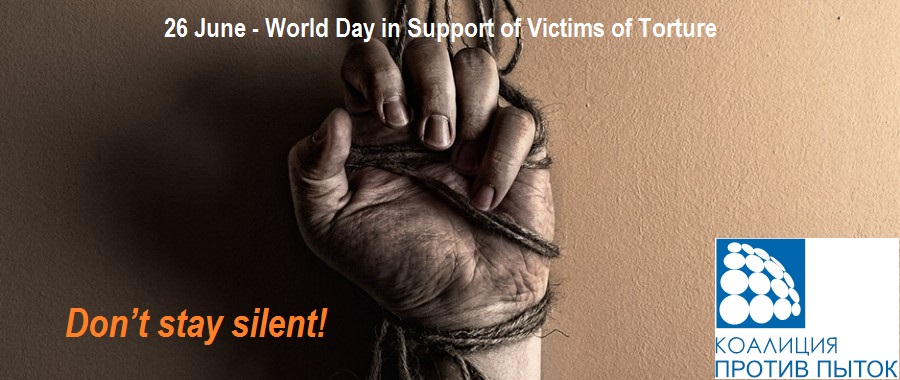 On 17 July 2008 police officers from the city of Rudny in Kostanay region detained Rasim Bayramov on suspicion of stealing a small sum of money and three bottles of beer. In order to force him to confess, the police men kicked and beat Rasim all over his body, dragged him along a corridor by his hair and threatened him with sexual abuse. They deprived him of sleep at night and gave him nothing to eat or drink for over two days. Eventually, Rasim could not stand this treatment and signed a confession of guilt.
Later, Rasim Bayramov was sentenced to five years in a prison colony. He was 26-years-old.
Although Rasim Bayramov and his mother repeatedly lodged complaints with the local police and prosecution authorities about torture and procedural violations, no effective investigation was opened into the allegations.
In May 2011 Rasim Bayramov turned to the United Nations (UN) Committee against Torture, which, three years later found that he was a victim of torture, that Kazakhstan should pay compensation for the suffering he had endured and that those responsible should be brought to justice. However, the Kazakhstani justice system made a mockery of the UN Committee decision, awarding the meager compensation of 100 thousand tenge (some 260 euros).
On 14 February 2016, after almost eight years of fighting to prove his innocence and trying to achieve justice, Rasim Bayramov died of complications resulting from illnesses he had contracted in prison. He was only 33 years old.
Like many boys, Rasim was keen on technical tasks – he could sit for hours and fix phones or home appliances, he especially enjoyed barbeques with his family in the garden. Rasim's grandmother, mother and sister have lost a grandson, son and brother. There are no words to express their ongoing pain…
After Rasim's death his lawyer managed to get the investigation into torture re-opened – on 6 May 2016 Kostanay Court No. 2 upheld the appeal, and ruled that the decision to close the criminal investigation into the allegations of torture was not legal. The Kostanay Regional Prosecutor's office lodged a complaint against the decision which was refused by Kostanay Regional Court on 18 May.
Human rights activists have finally managed to get the criminal case into torture re-opened despite constant and large-scale opposition from law enforcement agencies.
As Rasim's family continue the fight for justice, his mother, Natalia and his sister Liana need your support more than ever.