A meeting was held today at the head office of the Human Rights Bureau in Almaty with representatives of the EU Delegation to Kazakhstan who are overseeing the implementation of the project (under the auspices of the European Instrument for Democracy and Human Rights – EIDHR) to combat torture in Kazakhstan and support the Kazakhstan NGO Coalition against Torture.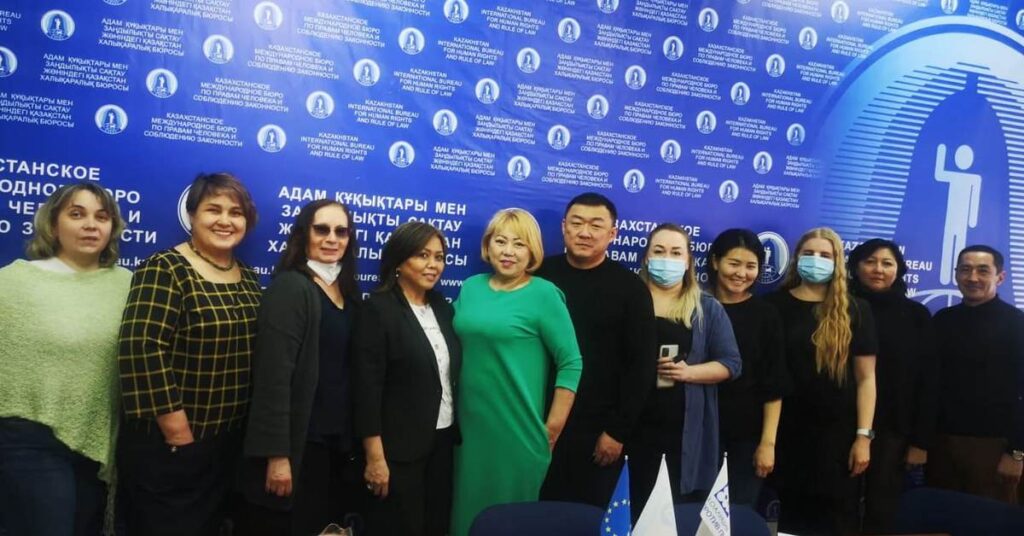 The meeting was attended by Zulfiya Baisakova, Head of the Union of Crisis Centres of Kazakhstan, Tatiana Chernobil, expert in international human rights law, and Anna Solodova, lawyer at the Human Rights Bureau. The EU delegation was represented by Tatiana Sibel-Rivera and Gulnara Dussupova, EU Programme Officer.
The European Union's three-year project Promoting the implementation of international standards and best practices in the fight against torture in Kazakhstan by strengthening the capacity of the NGO Coalition against Torture has been a pivotal contribution to the Coalition's activities in recent years. The January events and the ensuing wave of violence against detainees and arrestees by security forces showed that the work the Coalition does in reaching out to the closed institutions and providing legal assistance to dozens of victims is necessary. In the past two months alone, the Coalition has provided advocates to assist with complaints to more than 50 torture victims, double the annual average, said Rosa Akylbekova, the Coalition's co-ordinator and deputy director of the Human Rights Bureau.
In the way of evidence, human rights defender Viktor Ten and advocate Alexander Kim were invited from Taldykorgan as this city is leading the sad chart for the number and severity of torture applied to detainees, including juveniles. The invited victims of torture at the hands of the police also recounted their experiences.
For their part, the EU delegation was struck by the degree of police brutality following the detentions after the January events and by the utter impunity of the perpetrators.
The EU representatives rated highly the work carried out by the Coalition, which often in many ways replaces the supervisory authorities and government agencies for the protection of human rights.
For additional information please contact Diana Berezovskaya (+7 727 2495962, diana.berezovskaya@gmail.com)